My first ever Glitter Gal! Therese from Beautometry gave me this as a present for hosting her Glitter Gal giveaway.
This polish is sheer on it's own, so here I layered 2 coats over black.
Duochromes are so much fun. I made a gif to hopefully show the color shifts. Purple to gold to green. Those were the main shades I could pick up with my camera. I wish more of the colors showed up on the nail like how the bottle looks. The bottle shows some blue and teal, but it doesn't make it to the nail.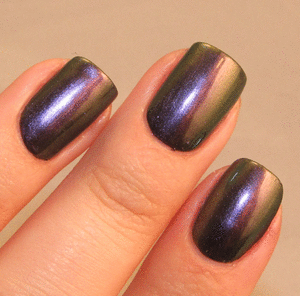 Pin It